Description
SUMMARY
The Tableau Forensic SATA/IDE Bridge is a portable write-blocker that enables forensic acquisition of SATA and IDE solid-state-drives.
A second-generation Tableau product, replacing the Tableau T35es.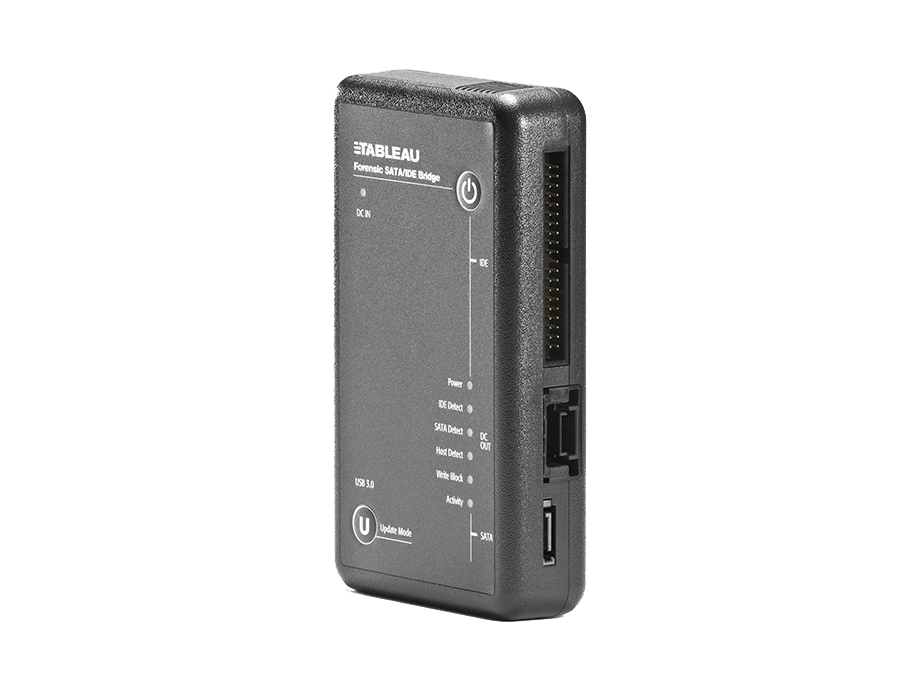 FEATURES
Suitable for both the field and lab
USB 3.0 host computer connection
Seven LEDs provide status on power, IDE media detection, SATA media detection, host connection, write-block status, and activity
Read/write mode capability via internal DIP switch
Free Tableau firmware updates
NOTE: The Tableau Forensic SATA/IDE Read-Write Bridge [T35u-RW] is the T35u pre-configured for read-write operation.
| | |
| --- | --- |
| Connectors: Host (Left) Side | |
| USB 3.0 | One USB 3.0 Standard-B connector |
| DC Input | One 5-pin mini-DIN connector for use with the Tableau TP2 power supply, and one bayonet connector for use with the Tableau TP5 power supply |
| | |
| --- | --- |
| Connectors: Device (Right) Side | |
| SATA | SATA signal connector |
| IDE | IDE signal connector |
| DC Out | 4-pin 3M drive power connector (power to SATA or IDE hard disk) |
| | |
| --- | --- |
| Switches | |
| DIP Switch | The 4-position DIP switch configures user-selectable options that are not required for normal operation. See the T35u/T35u-RW Quick Reference Guide for more information |
| | |
| --- | --- |
| Other Features | |
| Status LEDs | Seven LEDs: DC IN, Power, IDE Detect, SATA Detect, Host Detect, Write Block, Activity |
| Factory Configuration | Black-case units are pre-configured as read-only (T35u) |
| | Yellow-case units are pre-configured as read-write (T35u-RW) |
| | |
| --- | --- |
| Compatibility | |
| SATA Device | SATA 1 or SATA 2 hard disk devices |
| IDE Device | Parallel ATA hard disk devices with Logical Block Addressing (LBA) support |
| Host Interface | USB 3.0 (backward compatible with USB high/full/low speed) |
| Host OS | Microsoft Windows version 7, 8, 10 |
| | Macintosh OS X |
| | Most modern Linux distributions (Note: Linux distributions have varying levels and quality of support for USB 3.0) |
| | |
| --- | --- |
| Physical / Environmental | |
| Power | 5-6 watts typical operating (not including hard disk) |
| Supply Voltage (DC IN) | +5VDC @ 2A, +12VDC @ 2A (includes budget for hard disk) |
| Output Voltage (DC OUT) | +5VDC @ 1A, + 12VDC @ 1A |
| Dimensions | 5.625 in. (L) x 3.25 in. (W) x 1.125 in. (H) |
| Weight | 5.9oz (168g) |
| Operating Temperature Range | 0 to 55 degrees C (no airflow) |
| Storage Temperature Range | -40 to 70 degrees C |
| Relative Humidity | Up to 90% (non-condensing) |