Description
SuperWiper 8" 4 NVMe ports is an extremely fast, efficient, and secure PORTABLE dedicated NVMe SSD eraser unit. It is built with the latest hardware technology to achieve the most efficient drive erases, performing at a very high speed, with the ability to erase multiple drives at the same time. The unit supports many erase protocols and different digital storage devices such as SSD, HDD, NVMe, SATA-3, e-SATA, and USB3.1. The unit is designed to enable the user to erase 4 NVMe SSD at the same time. The application also supports erase from NVMe SSD formatted with multiple namespaces. It is one of the best and most economic products in the market, does not use licensing scheme.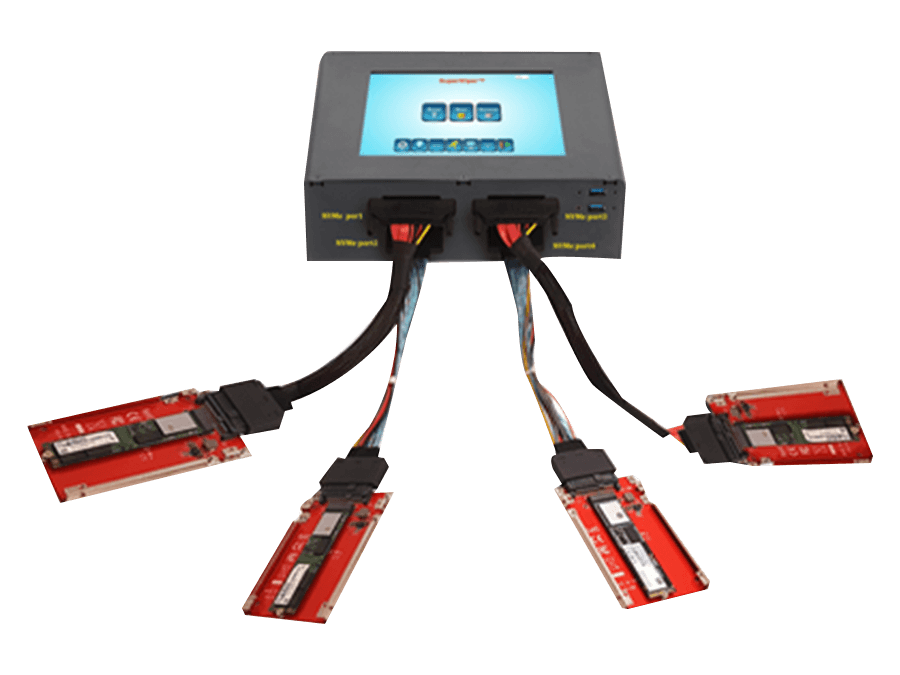 Main Hardware Features:
Case: Compact, mobile, lightweight, and easy to carry.
CPU: i7 Latest generation
Display: 8″ (800X600) touchscreen, color LCD display.
8 Channel HDD Open Tray: Easy to insert and plug tray that accommodates any size and shape of drives or storage devices; contains power status LED indicators.
Hardware: Very high-quality, high performing components; some with military specifications.
OS: Linux Ubuntu 64 bit.
Security: Linux OS (Linux is less targeted by malware).
Application Updates: The application can easily be updated via a USB thumb drive and displays a special update application screen.
Dedicated Secure Unit: Erases and Formats storage devices (HDD, SSD, USB storage devices, and Multi Media Cards).
Hardware Specifications:
RAM: 8GB DDR4 internal memory.
Storage controller: NVMe Storage Controller
Hardware Supports:
Erase Operations: These ports' role cannot be changed by the user.
Supports Storage Protocols and Interfaces: NVMe, SATA, e-SATA enclosures, IDE, USB2.0, USB3.0, MMC, M.2 NGFF(SATA or PCIE base), 1394, SCSI, Thunderbolt, and SAS.
Supports Form Factors: 3.5″, 2.5″, ZIF, 1.8″, Micro-SATA, Mini-SATA, PCIE, Mini PCIE, and M.2 NGFF storage devices.
Erase Multi-Media Cards: Supports SD/CF/Memory Stick/microSD with the use of a Multi-Media Card reader via a USB port.
Application Settings:
HPA/DCO Automatic Supports: The application has the ability to automatically open HPA and DCO areas and re-size the drive to its full native capacity in order to erase any "hidden data" (HPA/DCO are special areas on the drive that support this feature).
Bad Sectors Handling: The user can select to skip bad sectors/blocks or abort the operation when it encounters bad sectors/blocks on the source drive.
48bit LBA Addressing: Supports drives with sizes up to 256TB.
Application Features:
GUI: The application is built with large, very simple, and easy-to-navigate icons. In a few clicks, the user can set the operation, and it will quickly start up and run.
Speed: Extremely fast operation
– Tested with a single erase pass operation, the speed for 8 WD Blue 1TB drives, in 8 separate sessions running simultaneously, was 8.2GB/min.
– Tested with a single erase pass, the speed of 8 120GB SanDisk Extreme II, in 8 separate sessions running simultaneously, was 29GB/min.
– Tested with a single erase pass, the average speed of 512GB M.2 NVMe SSD model Samsung MZVPV512HDGL was 93.7GB/min.
Application Main Operation:
Erase data from drives
Erase Verification
Format
Drive Diagnostics
Erase and Format Operation:
Drive Erase Protocols:
DoD 5220-22M (ECE) Mode: Use 7 passes/iterations to rewrite the drive and use the last 8th pass/iteration for verification.
DoD Lite 5220-22M (E) Mode: Use 3 passes/iterations to rewrite the drive and use the last 4th pass/iteration for verification.
Security Erase Mode: Use the internal firmware of the drive to perform internal drive erases. The erase operation overwrites all the user's data areas with binary zeroes. It is the most efficient operations and saves time, allowing the user to perform 8 iterations. It has a built-in verification process (it is supported by SATA drives that MFG after year 2000).
Enhanced Security Erase Mode: It is very similar to the Security Erase mode. It is the recommended erase mode for drives that are supported by this mode. The Enhanced Security Erase mode writes pre-determined data patterns (set by the manufacturer) to all the user's data areas, including sectors that are no longer in use due to reallocation.
"User" Erase Mode: The user can define their own parameters on how to run the erase operation. The user can decide on the final pattern of the data that will be written on the drive, the number of erase iterations, and the verification mode (none, full, partial, all of which is randomly verified up to 10% of the areas on the drive).
Sanitize Erase Mode: Supported mostly by SAS SSD. There are 3 types: 1. Rewrites the media. 2. Block erase – similar to security erase. and 3. Crypto – where the drive f/w encrypts the data and throws away the encryption key.
NVMe Format Mode for NVMe SSD with 3 types: 1. NVMe Format. 2. Security Crypto Erase – for drives that support it (it fills the drive after the erase using random data so the user will not be able to run a Verify after. This is similar to Crypto mode of Sanitize or Enhanced Security Erase). 3. Security User Erase – for drives that support it.
NVMe – Erase Mode: Similar to Sanitize Erase Mode with 3 types – 1. Rewrites the media 2. Block erase 3. Crypto.
NIST Compliance: Security Erase, Enhanced Security Erase, DoD erase, Sanitize, and NVMe erase protocols are all NIST 800-88 compliant. The "User" erase mode is NIST compliant only when the user enables the full verification option.
Erase Drives with passcode: The application will be able to erase drives that are password protected only if the user has the passcode. The user needs to insert the passcode in the Security Erase setting prior to running the erase operation.
Drive Format: NTFS, FAT, exFAT, HFS+, EXT4.
Drive Diagnostics Operation:
Drive Diagnostics tests and S.M.A.R.T. drive tests: If the user intends to erase a drive for re-use purpose, it is recommended to run some "Health test" on the drive prior to the erase process. There are 4 available types of tests:
-Read-Verify- supported by all storage protocols.
-Short Test (2-5 minutes)- scans random areas on the drive.
-Extended Full Test (Can take hours)- scans the entire drive.
-Conveyance Test- identifies damage incurred during the transporting of the drive to evaluate the "health" condition of the drive prior to the erase operation (S.M.A.R.T. is only supported by SATA/SAS/SCSI storage protocols).
Logs and Erase Certification: The application generates extensive erase log files and erase certifications (option to save to NIST 800-88 format) that are easy to export to USB flash drives. The user can add his company logo to the erase certification and also add additional info on the erase runs that will append to the certification.
NEW SQL Log files Database: The user is able to manage the log files in one SQL database that can be easily exported.
Parallel Operations:
Multiple Session Operation:
Versatility with Multiple Cloning Sessions: The user can assign and select one source and many target ports into one session of cloning. Also, the user can have many sessions of cloning; each will have one source drive and at least one target drive. This gives the user more possibilities to use the unit in a very efficient way. The user can run multiple, simultaneous, parallel operations using any available ports. Also, the user can combine more than one port/storage device to run in the same sessions. In addition, the user can mix different types of operations, and each operation is set as a new independent session. An example of operations: Erase data from a drive that is connected to the first port, quick copy using drives connected to ports 2 and 3, and so on.
Multiple Sessions Application Screen: All running sessions are displayed in one "Application Screen". The "Application Screen" shows the name of the session, the operation of the session, the error or abortion flag, the progress completion bar, and the successful completion flag. The user can abort a session, tap on a session to monitor its real-time running progress, and get the specific detailed setting for that run. It is a very easy way to view, navigate, and control the sessions.
Drive Detection Application Screen: All drives and storage devices that are connected to the unit will be scanned and displayed in one application screen called "The Detection Screen". The user can tap on each drive to get the drives detailed info, perform a specific operation on that drive, like resizing it, as well as select it for the desired operation they are planning to use.
Options:
SAS 4 ports Kit: Supplied with External PS and 4 Ports controller and cabling.
USB3.0 to SATA Adapters and Kits Option: Today USB3.0 technology is extremely fast and can run read data from SSD drives up to 20GB/min. With the use of USB3.0 to SATA 4 channel Kit, the user can convert 4 USB3.0 ports to 4 SATA ports on any of MediaClone's units. The optional Kit is supplied with one external PS and it includes all the cabling to power and connect the 4 USB3.0 ports to SATA adapters. The tested performance of the unit, when running 4 adapters in parallel, was measured at a very high speed and with very little speed degradation.
SCSI KIT Option: This option includes SCSI PCIE X1 single port controller, 2 channel SCSI LVDS cables (68 pin connectors), SCSI terminator, and VHDCI to 68 pins SCSI adapter (with the purchase of the TB 3.0 Expansion Box).
1394 Option: This option is supplied with 1394A/B PCIE 1x controller (with the purchase of the TB3.0 Expansion Box).
M.2 SATA to SATA Adapters
NVMe additional 1 port M.2 controller
NVMe additional 1 port SFF-8639 external solution
Built-in the US: The units are built and tested in the US.
Warranty: One-year free warranty on the main unit (this does not include warranty o accessories, adapters, and cables).
Ports:
Native SATA: 1 e-SATA Port
USB3.0/3.1: 8 Ports
NVMe: 4 Ports (supplied with U.2 cables and U.2 to M.2 adapters).
Thunderbolt 3.0: 1 Port
HDMI and DP port for external monitor.
Top and Front Panel: 4 NVMe ports with power and 2 USB3.1 ports.
Back Panel: 6 USB3.1 ports, 1 e-SATA 6Gigabit/s port for external storage ("hot" plugged), DP and HDMI port, and Thunderbolt 3.0 port.
Power Characteristics:
A universal auto switching 192W UL/CE/PSE external power supply adapter with a key and lock mechanism to avoid accidental disconnection.
Input voltage: 100-240V/50-60HZ.
Power Consumption excluding External Drives: 100W
Operating Environment:
5°C – 55°C (40°F-130°F), relative humidity: 20-60% non-condensing.
Mechanical Characteristics:
Unit:
– Dimensions: 10.6L" x 7.70W" x 3.80D" inch. (270 x 194 x 98 mm).
– Net Weight: 8.00 lbs
• Shipping:
-Dimensions: 16" x 12" x 12" inch.
-Box Weight: 13.00 lbs.
Included Items:
4 M.2 NVMe adapters.
4 SFF-8639 U.2 extension cables and secure brackets.