Description
Belkasoft Evidence Center makes it easy for an investigator to acquire, search, analyze, store and share digital evidence found inside computer and mobile devices, RAM and cloud. The toolkit will quickly extract digital evidence from multiple sources by analyzing hard drives, drive images, cloud, memory dumps, iOS, Blackberry and Android backups, GrayKey, UFED, OFB, Elcomsoft, TWRP images, JTAG, and chip-off dumps.
Evidence Center will automatically analyze the data source and lay out the most forensically important artifacts for investigator to review, examine more closely or add to report.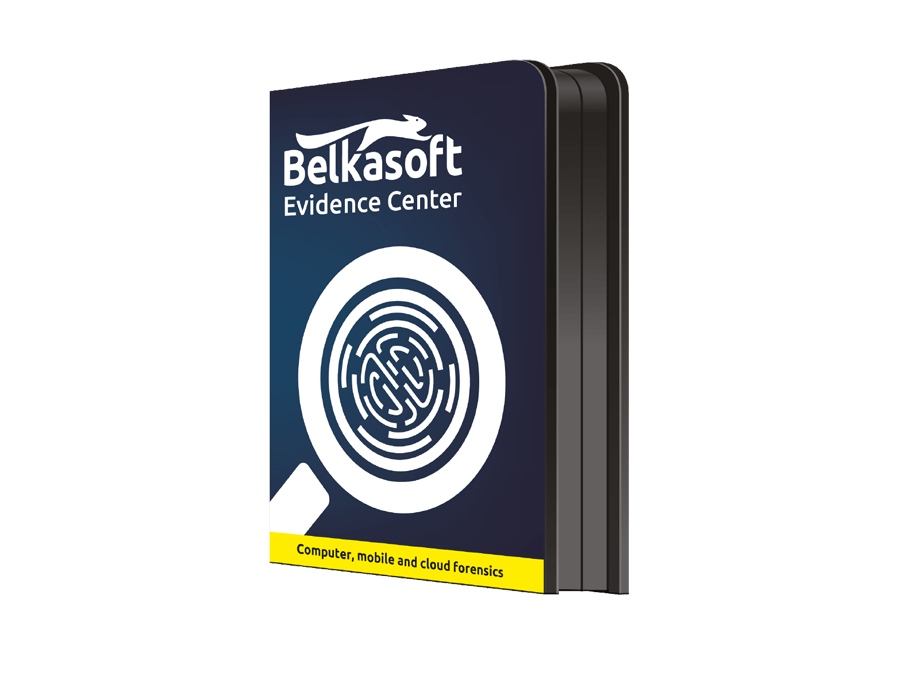 Mobile and Computer Acquisition.The product allows you to acquire data from a computer, a laptop or a mobile device. Hard and removable drives are acquired into DD and E01 formats with optional hash calculation and verification. For mobile devices running iOS BEC acquires iTunes backup and full file system copy under some circumstances or when a device is jailbroken; for Android devices there are multiple formats: standard ADB or agent-based backup, EDL and physical backup for rooted devices.
Mobile and Computer Device Examination.Supporting all major desktop and mobile operating systems, Belkasoft Evidence Center is suitable for mobile and computer forensics. It can parse real and logical drives and drive images, virtual machines, mobile device backups, UFED and OFB images, JTAG and chip-off dumps.
Smart and Comprehensive Analysis.The product looks everywhere on the device completely automatically and can successfully identify over 1000 types of digital artifacts. Convenient Evidence Search feature helps to narrow down the findings using filters, pre-defined search, or other options.
Powerful Carving.Data carving allows you to locate evidence that was deleted, destroyed, or never stored on the hard drive at all (page file, hibernation file, RAM contents). Custom carving is supported as well, including support for Scalpel and FTK sets. In addition, advanced carving mode called BelkaCarving™ is available, making it possible to reconstruct fragmented chunks into contiguous pieces of information that would otherwise not be accessible at all.
Native SQLite Parsing.Recovers corrupted and incomplete SQLite databases, restores deleted records and cleared history files. Processes freelists, write-ahead logs and journal files, and SQLite unallocated space.
Live RAM Analysis.Evidence Center can extract potentially crucial information from volatile memory, such as: in-private browsing and cleared browser histories, online chats and social networks, cloud service usage history, and much more. Belkasoft Live RAM Capturer is a powerful tool for creating memory dumps, and it is complimentary.
Remote Acquisition.Remote Acquisition module allows you to perform acquisition of various data sources from remote locations. Available data source types include hard or removable drives, RAM memory and mobile devices.
The acquisition is performed with the help of an agent, installed to a remote device such as a computer or a laptop.
Incident Investigations.Incident Investigations module is aimed to help users investigate hacking attempts of Windows-based computers. By analyzing numerous sources such as registry, event logs and memory dumps, it can find traces, which are typical to various tricks used by hackers to penetrate company's infrastructure.
Cross-Case Search.Cross-Case Search module allows you to find intersections between the currently investigated case and other BEC cases. The information found in the current case is compared with the information found in the selected older cases and all matches will be reported.
Handy Built-in Tools.PList, Registry, and SQLite viewers allow you to work more thoroughly with particular types of data and find even more evidence than automatic search was able to discover.
Low-level Investigations.Equipped with File System Explorer, Hex Viewer, and Type Converter, Belkasoft Evidence Center will allow you to perform deep examination of the contents of files and folders on the device.
Extendable with BelkaScript.Free scripting module allows user to write their own custom scripts in order to automate some of the routine and further extend the product's functionality.